Press
FOR IMMEDIATE RELEASE
THE D.L. HUGHLEY SHOW DEBUTS ON RADIO TODAY
FROM 3 PM – 7PM ET ACROSS THE COUNTRY
The Nationally Syndicated Radio Show is set to air in 39 markets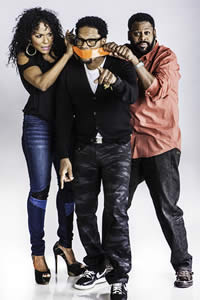 Photo Credit: Rance Elgin (left to right Jasmine Sanders, D.L. Hughley, Steve Wilson) )
Dallas, TX (August 26, 2013) THE D.L. HUGHLEY SHOW, hosted by D.L. Hughley with co-hosts Jasmine Sanders and Steve Wilson, begins on radio nationwide today from 3-7pm ET. The show will broadcast in 39 markets including Chicago, Cleveland, Nashville, Memphis, Detroit and New Orleans. THE D.L. HUGHLEY SHOW is a daily themed, music intensive afternoon drive program from 3-7pm ET hosted by one of the brightest comedic minds.
Comedian, actor, host, and television personality Hughley has stated that he's "very excited to get back to radio and it couldn't have come at a better time.  I think radio fits my sensibility.  I want to be fast, I want to be funny, I want to be topical. I want to make people laugh a lot and think a little. Some people want to push the envelope – I want to see if I can singe it a little."
REACH Media Inc., distributor of THE D.L. HUGHLEY SHOW, has partnered with Cumulus Media Networks in affiliation and other aspects of the show. THE D.L. HUGHLEY SHOW's website is www.theDLHughleyShow.com.



### About REACH Media, Inc.

REACH Media, Inc. is a leading cross-platform media company with networks and syndicated talent reaching a predominantly adult African-American audience of 12 million on a weekly basis, through radio broadcasts, digital media, events and initiatives. The company features highly popular syndicated radio shows including The Tom Joyner Morning Show, The Rickey Smiley Morning Show, The Russ Parr Morning Show, The Yolanda Adams Morning Show, The James Fortune Show, and The Al Sharpton Show.  REACH Media provides a strong digital presence through BlackAmericaWeb.com, websites for the syndicated talent, online streaming and mobile apps.  Integrated marketing opportunities related to family, education, health and inspirational initiatives are accented by the personality's commitment to the community. REACH Media, Inc., founded in 2003 by Tom Joyner and CEO David Kantor, is a subsidiary of Radio One.
### Contact
Kelly Harrington
Communications Manager, REACH Media Inc.
972.371.5851 Direct
Kelly.Harrington@REACHMediaInc.com